07.03.2023
Wine Dinners at Lympstone Manor
A review by Marc Millon
The Pool House Restaurant & Bar
, which was launched last summer, has already proved to be a wonderful space for more informal lunches and dinners, drinks around the heated pool, indoor and outdoor dining, sundowners over the vineyard at sunset, and much more. Our residents have already grown to love it, as do our House Members. Over the winter months through to the end of March, The Pool House is open to non-residents for lunches. From April it will be open to non-residents for evening dining only. When Michael created this fabulous new space, he always envisaged that it would also be a wonderful place for events and happenings.
The Pool House Restaurant & Bar, in fact, has already become the perfect venue for our more informal Wine Dinners, giving us the opportunity to work with some longstanding wine suppliers to create evenings of perfectly paired regional or theme-based foods matched with fabulous wines. We recently had a full house for our Portuguese Wine Dinner, hosted by Mary Wright of
Liberty Wines
. Michael and the team devised a Portuguese-inspired 5-course menu to accompany five wines that demonstrated the variety in styles and types of wines from across Portugal.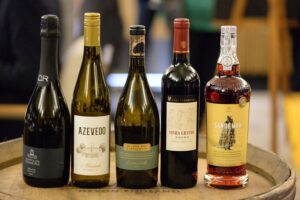 Mary Wright, a
Sogrape
Iberia Estates Ambassador, was a delightful host for the evening, explaining the wines, where they came from, how they were made in a fun and irreverent way that was just in keeping with the informality of this relaxed and enjoyable evening. Using maps and other visual aids, she took diners on a whirlwind tour of a country that produces wines almost everywhere and from a bewildering array of more than 200 indigenous grape varieties which, she said, most of us would never have even heard of. The evening started with petiscos – Portuguese tapas – that included green bean tempura, gambas a Guilho, and cod and parsley fritters, paired with a traditional-method sparkling wine from the Quinta da Romeira estate, fresh, zesty, made from the Arinto grape, crisp yet with an underlying richness that made it a great accompaniment to these delicious finger nibbles.
From the far north almost at the border with Spain, in the rainy Minho, we next enjoyed a razor-sharp vinho verde from the Azvedo estate that was the perfect pairing to an octopus carpaccio, the fresh acidity of the Alvarinho cutting the richness of the dish yet also able to stand up to its full, sea-fresh flavours. From the Minho, we next moved a little to the south into the Dão region for a fuller style of white from the Quinta dos Carvalhais estate. Here Encruzado grapes are whole-bunch pressed, the initial fermentation taking place in stainless steel before half continued fermentation in new oak barrels of varying size, with regular bâtonnage or lees stirring to add a rich and creamy texture. The result was a white wine that was almost Burgundian in character, and an excellent partner to a full-flavoured white bean, tomato and chorizo stew topped with a moist, flaky piece of grilled local cod.
Portugal is the source of outstanding red wines and the next came from the Douro Valley, Vinha Grande Douro Tinto from Casa Ferreirinha. The steep, schistous Douro has a continental climate, explained Mary, showing a piece of slate-like schist, a stone that retains heat on nights that can be surprisingly cool. The resulting wine, produced from a blend of Touriga Franca, Touriga Nacional, Tinta Roriz and Tinta Barraca was full in body, with bright brambly fruit, notes of balsamic herbs, and fine tannins, with an acidity that made it an ideal wine to accompany traditional chafana – a slow-cooked lamb shank in a deeply concentrated red wine reduction, a fabulous match.
An evening of Portuguese foods would not be complete without a pastéis de nata – Portugal's famous custard tart, the Lympstone Manor take on this classic not overly sweet or too eggy. It was paired with a nutty, 20-year old tawny port from the House of Sandeman that was richly complex, with hints of orange peel and dried fruits, beautifully smooth and mellow. Fortified wines have gone out of favour in recent years: this wonderful example is a good reason why we should take the time to rediscover them. Head Sommelier Sylwia Oger oversaw the wine service and added her own knowledge to the proceedings. What a wonderful evening of fine wines enjoyed alongside a Portuguese-inspired menu prepared with Michael's flair and refined style! As Mary Wright said to me afterwards in admiration, "Michael and the kitchen team really nailed it – the pairings were absolutely magnificent!"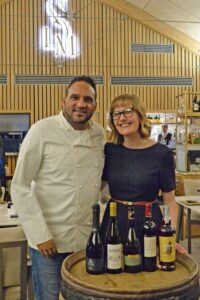 Coffee and petits fours followed before we all made our way home (or, for those lucky residents, to their luxury rooms and suites), replete, completely satisfied, and dreaming of Portuguese sunshine and sardines…or of the next visit to Lympstone Manor. Over the coming months, an ongoing program of Wine Dinners in The Pool House is being assembled, focussing on wine countries and regions, as well as on gastronomic themes. These are sure to be hugely popular events and will book out very quickly. If you are interested, please let us know and we will make sure that you are amongst the first to hear of them. Please email wine@lympstonemanor.co.uk