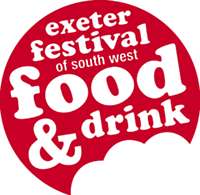 Michael is the inspiration and driving force behind the Exeter Festival of South West Food and Drink. Since it began in 2003, the food festival has evolved into an annual major food exhibition of national and even international importance. Some 20,000 visitors come each year to Exeter's Northernhay Gardens to discover the best food and drink from South West England: More than a hundred artisan food and drink producers; the regions best and most colourful chefs; educational taste workshops and demonstrations; fabulous street food and drink; and "after dark" music and food events.
"I have said on many occasions that south west England has the best larder not just in Britain but in all of Europe"
The South West Festival of Food and Drink celebrates this bounty and demonstrates to the world the exciting quality and variety of food and drink from South West England. over the years the festival has proven itself to be a great success and an event that is popular and sustainable. The many thousands who have visited over the years are proof that people in Exeter and the west country really do care about the real food, food made with passion, food that is not mass produced, food that is better and more tasty and more enjoyable to eat.
For further information about the food festival contact the festival administrator Chelsey Lockheart chelsey@michaelcaines.co.uk or visit exeterfoodanddrinkfestival.co.uk