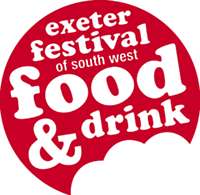 Michael is the inspiration and driving force behind the Exeter Festival of South West Food and Drink. Since it began in 2003, the Food Festival has evolved into an annual major food exhibition of national and even international importance. Some 20,000 visitors come each year to Exeter's Northernhay Gardens to discover the best food and drink from South West England: more than a hundred artisan food and drink producers; the regions best and most colourful chefs; educational taste workshops and demonstrations; fabulous street food and drink; and as the sun goes down, the "beats" music festival comes alive at the Castle.
"I have said on many occasions that south west England has the best larder not just in Britain but in all of Europe"
The South West Festival of Food and Drink celebrates the bounty of the region and demonstrates to the world the exciting quality and variety of food and drink from South West England. Over the years the Festival has proven itself to be a great success and an event that is popular and sustainable. The many thousands who have visited over the years are proof that people in Exeter and the West Country really do care about real food, food made with passion, food that is not mass produced, food that is better and more tasty and more enjoyable to eat.
The Seven Chefs
The annual Seven Chefs gala dinner event marks the launch of the Exeter Festival of South West Food and Drink. The exclusive black tie event sees seven of the South West's best chefs come together to create a collaborative gourmet menu that showcases both local produce, as well as their talent and passion.
Each course is carefully paired by a wine selected by the the region's top wine suppliers to enhance the gourmet dining experience.
Michael himself is the host and compère for the night, introducing each chef to announce and describe their dish followed by each of the wine pairings.
The line up of Chefs is much anticipated, and each year is always a sell out event.