31.08.2022
Meet Cafe Patisserie Glacerie's new Manager
Manchester-born Kelly has recently joined the Michael Caines Collection team as the new Manager of
Cafe Patisserie Glacerie
, our small, seaside venue that sits right on the edge of Exmouth beach. As well as dealing with the day-to-day tasks of the cafe, she is now one of the main faces of the establishment, so we sat down with her for a catch-up and to see how she's getting along.
"It's been a busy couple of months, but I really feel like I am settling in well. The location is great and the girls are wonderful to work with so all in all, I feel really happy."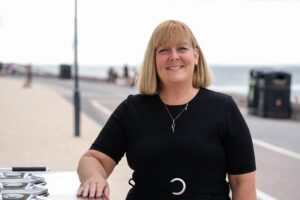 Having caught on to her northern accent, we asked what brought her to the South West. "A long time ago, I met my husband through hospitality when I was working as an area representative in my previous line of work. We were like the Gavin and Stacey of Manchester and Devon!" When asked to name some fun facts about herself, she came out with some cracking anecdotes.
"David Beckham nearly head-butted me when he was coming out of a shop. Neither of us were looking where we were going and we essentially walked straight into each other. He was really nice and apologetic though! Another fun fact is that I initially trained as a vet. I went to university to study for a few years but I eventually gave it up. I've also never had a pot noodle, which some think is very strange."
As well as being a keen holidaymaker, having only recently returned from a fortnight getaway in Mexico, she's also a keen paddle boarder and loves getting out on the water in Budleigh Salterton where she currently resides with her family.
Welcome to the team Kelly! We're thrilled to have you on board.